Via CNN Climate I recently came to hear that the Wörthersee Football Stadium in Austria has been transformed into a lush forest. It's a great example of how art can push social change forward. I'm glad that I'm able to share these photographs with you. Let me introduce you to the For Forest Art Installation from Klaus Littmann.
An effort to raise awareness
This installation is another example of art that can make people aware of important things in the world. This art installation from Swiss artist Klaus Littmann spreads a light on deforestation and climate change. And he does it with class and some quirkiness!
I mean, I don't know many people who come up with the idea to put nearly 300 trees in a soccer stadium. Especially when some of those even weigh up to six tons! For Forest—The Unending Attraction of Nature is a meaningful piece of work and it is the largest public art installation ever on view in Austria.
The inspiration for it goes back to the time when Klauss Kittmann saw a pencil drawing by Austrian artist and architect Max Peintner. Completed in 1971, Peintner's sketch shows a crowded stadium filled with spectators who have arrived to enjoy a magnificent forest of trees.
The vision
Peintner's work basically draws upon the idea of imagining a time when forests will exist only as exhibition objects. Because Peintner interpreted his landscapes as dream-like visions, the sketch anticipates an imagined world in which there is a destructive relationship between the process of civilisation based on machines and nature itself.
Therefore, the prophetic nature of the picture is now felt keenly in the present day. Over the years it made its way into more than 20 school and textbooks, as well as in publications in France, Denmark, Estonia, Czech Republic and Hungary.
Peintner's sketch can not be considered with a moralizing undertone, but rather with a figure of thought. On the website of For Forest they explain: "What if the forest became nothing more than an item on display! With this fictional idea, the artist was way ahead of his time, as discussions about forest die back only started in the 1980s."
So this drawing has become the symbol for Littmann's work. Almost 30 years later, with the help of Enea Landscape Architects like Enzo Enea, Littmann transformed Peintner's fictional idea into reality.
By bringing Peintner's vision to life, Littmann puts our ideas of deforestation, climate change, and the role of nature in our lives in a different perspective. By enclosing the forest inside the stadium, Littmann reminds the public that, if we're not careful, we risk only being able to enjoy nature in false environments—much like animals in a zoo.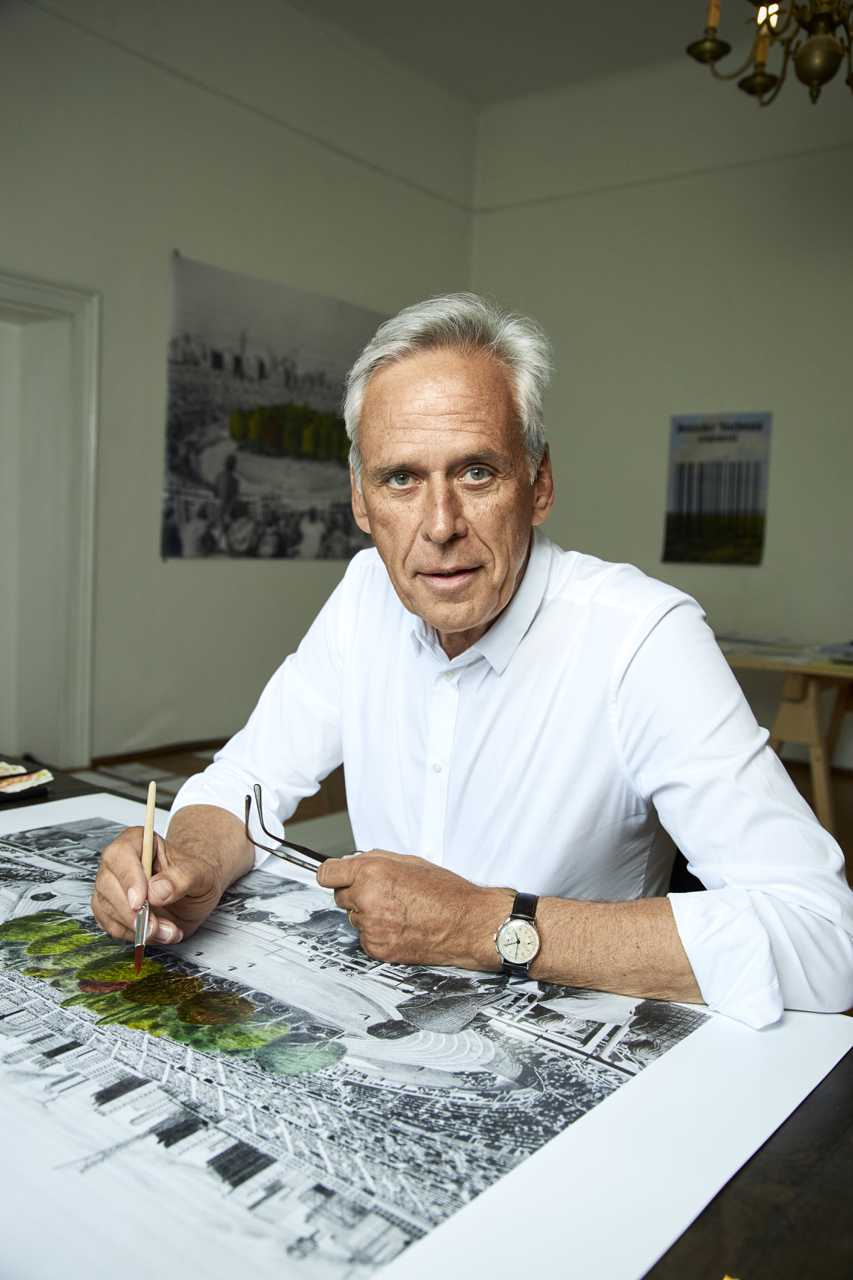 The experience
The Wörthersee Stadium seats up to 30,000 people, and is now home to an enormous European forest filled with diverse species. Name it, and you'll find it there: silver birch, alder, aspen, white willow, hornbeam, field maple, and common oak are just some of the varieties that will take root and transform colors across the autumn season.
Also, visitors are allowed into the stadium free of charge from 10 am until 10 pm daily, where they can experience the magic of the forest under different weather and lighting conditions.
During the evening, For Forest changes dramatically under the stadium floodlights. As the lights cause a variety of shapes and shadows, this carefully constructed landscape will change form. And they also have thought about the destination of the trees after the exhibition.
Namely, once the installation is complete, the entire forest will be replanted in an area close to the stadium. The work will remain as an ever-evolving, living sculpture.
Conclusion
The installation For Forest by Klaus Littmann is on view daily at Wörthersee Stadium in Klagenfurt, Austria until October 27, 2019. If you like to go there, be my guest and let me know what it was like! I would love to hear that.
In addition to that, it's also compelling to me that art can be so transformative and so significant. To me, the great thing with art is that it can say way more sometimes than words can do. Using visuals and your imagination can bring worlds and ideas to life in many ways, that can make even more impact.
Tell me what you think of this art installation in the comment section below.
Lisanne Swart granted permission to use photos by For Forest.